Regrettably, the elegant large flange design ( "Record Pista", photo above) has been discontinued after an extraordinarily long model life. However, we'll continue to list them as long as we have a supply of new, old stock.
In the 2002 model year, Campagnolo introduced a new small flange track hubset (model name: "Pista"), which is available in drilling options of 32°×32°, 32°×36° or 36°×36° holes. Small flange front and rear hubs are available to purchase separately.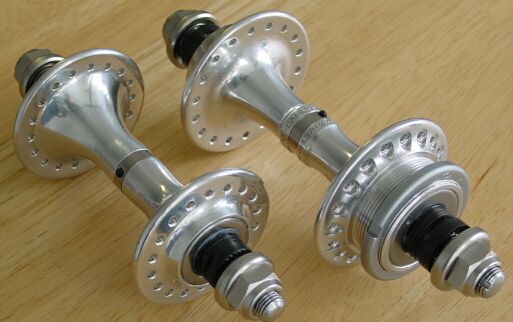 Over locknut spacing: 100 mm front, 120 mm rear.
Bearing complement: ten 3/16" balls in each front cup; nine 1/4" balls in each rear cup.
Sprocket threading: ISO; lockring threading: 33.5 mm. x 24 tpi (left hand).
Please note that Campy track hubs now come packaged with a caveat that they are inteneded for track use only (not approved for fixed-gear road wheels).
CURRENT PRICE